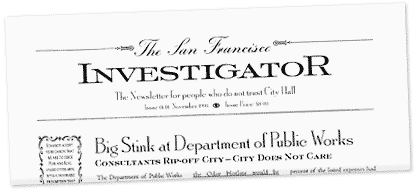 The San Francisco Investigator
One thousand readers subscribed to The San Francisco Investigator newsletter, which came out monthly for two years. The newsletter was widely read by politicians, community activists, media, and normal people. Scoops from the newsletter were picked up by the San Francisco Examiner (pre-sale), San Francisco Chronicle, Daily Journal, Recorder and Los Angeles Business Times.

Samples
PDFs of scanned originals. PDF reader required.
Back to Peter Byrne's main Profile »