Northern California-based journalist Peter Byrne has an uncanny ability to mine reportable nuggets of graft and corruption out of mountains of government and corporate records — not to mention human sources. He knows how to get inside the soul of self-serving systems — be they created by left-wingers, neocons, or non-ideologically-inspired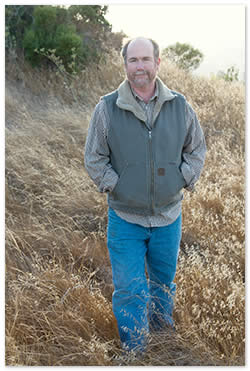 criminals — and find the facts. Byrne's story "Death, Maiming, Money & Muni" was a finalist in 2004 for the Investigative Award given by Investigative Reporters & Editors. This hard-hitting expose of San Francisco's transit system also won first place for investigative reporting from the Association of Alternative Weeklies. His series exposing U.S. Senator Dianne Feinstein's conflicts of interest — "Senator Warbucks" — was a finalist for the 2008 Investigative Enterprise Award by Investigative Reporters and Editors and received awards from the California Newspaper Publisher's Association and Project Censored.
Byrne has received national, regional, and local recognition for investigative work, writing style, and in-depth profiles of politicians, grifters, grafters, and… artists (for whom he has a soft spot). He also writes compellingly about new developments in physics, quantum computation, and stock car racing. Byrne likes to take tough, complex subjects and explicate them in ordinary language for normal people. He figures that if he can understand exactly how people steal money from the government and get away with it, or how reality-shifting media organizations owned by defense contractors are able to brainwash millions of people into working against the interest of the human species — then he can explain how it works to the reader.
He loves reading purloined documents, and taking whistle blowers out to lunch at fancy restaurants.
Speaking Engagements
2007 – 2009:
Presentations on Hugh Everett and quantum mechanics to Everett@Fifty conference, University of Oxford, United Kingdom and Many Worlds at Fifty conference, Perimeter Institute of Theoretical physics, Waterloo, Canada and Department of Philosophy of Logic and Science, University of California, Irvine and Annual Meeting of FQXi in Azores.
Journalism Awards
2011: Byrne received a Journalist award from the Society of Professional Journalists Northern California chapter for his multipart series on the website Spot.us investigating questionable UC investments.
2009: Grant from the National Science Foundation for an annotated anthology of Hugh Everett III's works, to be published in 2011 by Princeton University Press.
2008:
Byrne's series exposing United States Senator Dianne Feinstein's longtime conflict of interest with her husband's military contracting businesses was a FINALIST in the 2008 Investigative Journalists & Editor's National Award Contest. And California Newspaper Publishers Association gave Byrne a nice award for Investigative / Enterprise Reporting on Dianne Feinstein's Iraq Conflict. So did Project Censored.
Grant from The Foundational Questions Institute (FQXi) for "The Many Worlds of Hugh Everett III: Multiple Universes, Mutually Assured Destruction, and the Meltdown of a Nuclear Family," Oxford University Press, 2010.
2007:
Project Censored Award — one of the top 25 news stories of 2007, "Senator Warbucks"
California Newspaper Publishers Association — Second place, statewide, for news column writing, The Byrne Report.
2006: Grant from Investigative Fund of The Nation to research a conflict of interest in the United States Senate
2005: California Newspaper Publisher's Association Award for newspaper column writing in North Bay Bohemian.
2005: Awarded a grant-in-aid by the American Institute of Physics for research on the Hugh Everett interpretation of quantum mechanics.
2004: Investigative Reporters & Editors (IRE) Finalist for "Death, Maiming, Money & Muni," (SF Weekly). First Place, Investigative Reporting, Association of Alternative Newspapers (AAN) Award.
2003: California Newspaper Publishers Association, First Place, Investigative Enterprise for "Dirty Pool" (SF Weekly); Peninsula Press Club, Feature award for "Who is Clint Reilly, Really?" (SF Weekly)
2002: Paul L. Myhre Single Story Award/Missouri Lifestyle Journalism, for "San Francisco International Airpork" (SF Weekly).
2001: Peninsula Press Club Team Writing for "W. L. Brown, A Public/Private Partnership." (SF Weekly).
2000: California Newspaper Publishers Association, First Place, Investigative Enterprise for "Rewarding Failure" (SF Weekly); Maggie Award First Place Series for "Rewarding Failure" (SF Weekly); Peninsula Press Club, News Feature award for "Downtown's Fairy Godmother" (SF Weekly)
1999: Association of Alternative Newspapers, First Place Business Story for "The Great Bank Thievery" (SF Weekly).
1996: Society of Professional Journalists, Northern California Chapter, First Place: Investigative Enterprise for "Hayes Valley Days" (San Francisco Bayview newspaper).
Employment
Syndicated Political News Columnist — North Bay Bohemian newspaper in Santa Rosa, California. Also, recent work in Scientific American, Salon.com, Mother Jones, San Francisco Magazine, California Lawyer, San Francisco Recorder, Pacific Sun, and Kitchen Sink magazine.
Staff Writer, SF Weekly, 1998 – 2004
Pitched, reported, and wrote news stories and ten major features a year with the San Francisco-focused alternative newspaper. Accomplishments include:
Generated ideas for, and executed more than fifty 5,000 word feature stories, many on national subjects. Features include investigative enterprise journalism, science writing, business and technology stories, crime stories, individual profiles.
Honed financial, legal, and scientific literacy through exhaustive research, investigation of public records, extensive cross-reference, personal interviews.
Honored with national, state, and regional journalism awards for investigative reporting and writing style.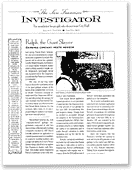 Download SF Investigator sample issues.
Editor & Publisher, The San Francisco Investigator Newsletter, 1996-1998
Conceived of, reported, wrote, and published non-partisan, monthly newsletter, which "followed the money" and analyzed San Francisco's municipal affairs. The handsomely-designed, 8-page newsletter was subscriber-funded and independently produced. Accomplishments include:
Identified an opportunity to report on San Francisco government that was not met by mainstream journals.
Launched and grew the newsletter to serve more than 500 paid subscribers in two years.
Investigative scoops from the newsletter were featured in the daily newspapers and television news programs.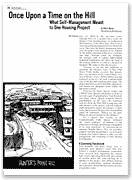 Kitchen Sink Magazine, "Once Upon a Time on the Hill: What Self-Management Meant to One Housing Project," PDF, 900K
Housing Management Consultant, 1992-1996
Worked with public housing tenants in San Francisco to establish and operate resident management corporations, creating several million dollars in on-site jobs for tenants. Conducted training seminars on tenant entrepreneurship throughout the West and advised many resident councils inside the projects, as a consultant to the U.S. Dept. of Housing and Urban Development.
San Francisco Bayview, 1992-1996
Part-time reporter for the Bayview-Hunters Point community newspaper. Won the 1996 Investigative Enterprise Award from the Society of Professional Journalists (Northern California chapter) for a three-part series on corruption at the San Francisco Housing Authority.
Artist, 1989-1991
Using NEA grants, wrote and producing a weekly cable television show on art and public affairs in San Francisco. Curated art shows in local galleries which gained national attention. Worked as a design consultant to Bay Area theater groups.

View theater clippings
Theater director, 1977-1988
Directed plays in New York City and the Bay Area to critical acclaim.
Trivia: Directed Kevin Spacey in his first paid acting gig.
Education
1976, Master of Fine Arts Theater Program, Florida State University.
1974, B.A. Magna Cum Laude, Tufts University, major in English, Theater, Philosophy.
Contact
Phone:
(707) 981-4989
Email:
pbyrne@sonic.net